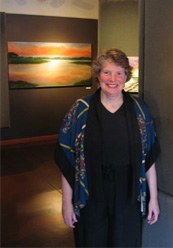 Liz Maruska's art is adventurous and bold, nostalgic yet contemporary. Maruska's approach is versatile-- her landscapes, florals and abstractions have been shown on floors, city banners, walls, cars, delicate six inch canvases and wrapped city buses. Maruska has exhibited on both coasts and can be found in private collections across the country.
Coming from a diverse background of art and business, Maruska, has been awarded numerous civic projects, most recently her local public transit system, where she has wrapped a fleet of city buses in her work. Another "roving museum" art project is her vehicle work, such as a fantastic old Cadillac which she painted and named "When Matisse met Jackson Pollack."
Maruska trained at Stanford with two art pioneers of California; the abstract expressionist, Frank Lobdell and the figurative painter and print maker Nathan Oliveira. Even Maruska's tiniest landscapes pack a punch of life-force and reverence toward nature, such as "Soft Sunset," (acrylic, 9" x 12"), a sky washed in bright and billowing pinks. "Glorious Skies-Winter" (36" x 72") is a lush spread of silver flecked water shedding away its coat of mist, expansive beyond its canvas. Maruska's body of work combines the ideals of the 19th Century painters, as seen in the preciousness of each marsh grass as it climbs up the shore, with the influence of abstract expressionism, as shown in the emotive quality of her inlets, the fearless use of color in the clarity and depth of the water, and her intensely personified orchids series.